XTRONS' First Single Din Android Car Stereo

It's 2018. A new era. A time to improve upon where we left off in 2017 and implement changes for the better. That's why we've launched our first ever Single Din car stereo with Android Nougat 7.1 technology.
We wanted to respond to the demands of car lovers far and wide, by providing something truly superior. Compared to the Single Din Car Stereos of old, complete with cassette deck, this unit
(D719AS)
demonstrates a magnitude of exceptional qualities, proving that any car can be enhanced with such an addition.
Single Din Android Car Stereo Technology
Nougat 7.1
An Android Nougat 7.1 operating system carries a host of benefits. Not only is it the latest operating system from Android, guaranteeing you the full plethora of its features, but it's the sharpest and smoothest Android experience to date. Assisted by 16GB ROM and 1GB DDR3 RAM.
Only £249.99 | Buy it Now >
Quad Core Processors
The engine behind the operating system is a powerful Quad Core Cortex A7 Processor. This allows for an increase in CPU speed of 70 percent and a 90 percent increase in GPU performance, to help assist in all of your favourite graphic intensive games and apps.
Multi-Window View
Welcome to a the wonderful world of multi-window or split screen viewing. Take advantage of being able to make bluetooth calls whilst still navigating your route. Passengers can search and find their favourite YouTube music videos without interrupting your flow.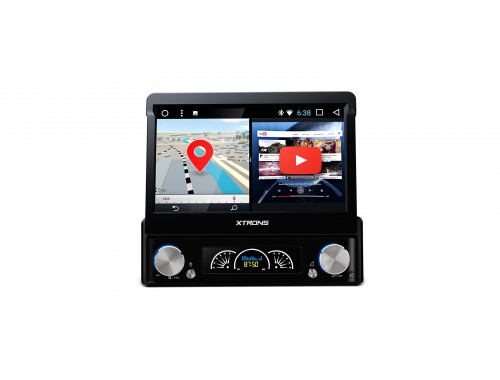 Single Din Android Car Stereo Stylish Design Features
Exterior
Without losing too much of the classic design and feel, Xtrons have added subtle features to enhance the overall aesthetic of this unit. Take the modern and metallic dials, which add an elegance to the exterior, and reduce the amount of buttons required, making it less cluttered. Soft curves have been added to echo the flow of the dials, also.
LED Display
The LED screen is a noticeable and welcomed addition. It's vibrant, refreshing, full of colour and withilds all the relevant information you'd expect from a modern car stereo. On top of that, it's also in tune with what's playing on your unit, with rhythmic responses from the pointer, adding a quirky layer of cool!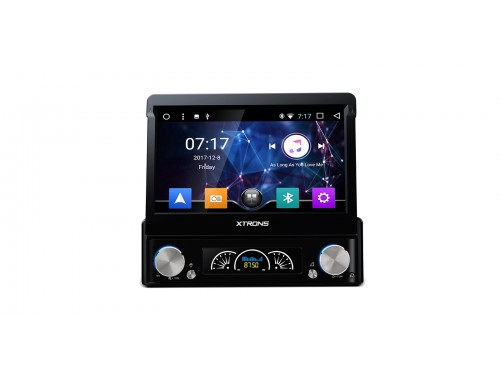 Personalisation
Including features to make your Single Din Android car stereo that little bit more personal is part of the fun at Xtrons. We've installed the ability to change the illumination colour behind your buttons. Whether you want it to match the colour of your car, your mood or just to keep it varied, it's a trendy little addition.
Anti-Theft Protection
Naturally, if you're going to invest in such a stylish piece of equipment, it will be an attraction to thieves. That's why we've made the front of it detachable, putting off any potential petty thieves!
Adjustable Viewing Angles
Due to the fact that we're not all the same size and shape, and that our favoured driving seat positions may vary, along with preferred comfort zones, we've given this Single DIn Android car stereo no less than 5 adjustable and alternative viewing angles.
Single Din Android Car Stereo Entertainment
Radio Waves
Reach out and listen to the more of your favourite radio stations on the move. With the premium radio module: NXP6686, you will benefit form uninterrupted radio signal reception and strong anti-interference ability. You can also go DAB+ with the optional
USB radio receiver
!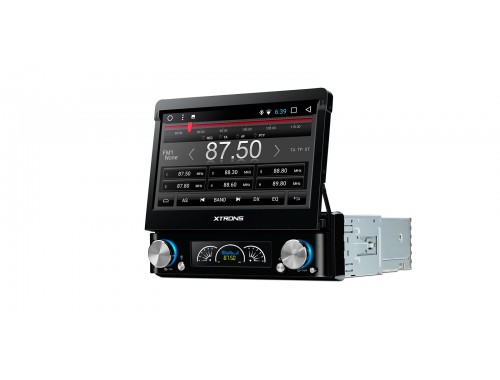 Screen Mirroring
Hook up your smartphone to your Single Din Android car stereo and reflect what you see. Read messages, make Facetime calls and much more on your head unit, instead of your phone! The HD touch-screen technology of the unit, allows seamless interaction.
DVD Player
Make the most of this car stereo's DVD player compatible in a range of formats: CD-Audio, CD-Video, CD-ROM, DVD-Audio, DVD-Video, DVD-ROM, CD-R, CD-RW, DVD-R, DVD+R, DVD+RW, DVD-RAM, Double layer DVD+R. YOu can allow your passengers to watch what they please on overhead or headrest DVD players too, with full RCA output!
Built-in Ports
With both USB and SD Card ports, you can connect almost every device and access the files you want to enjoy!
Single Din Android Car Stereo Convenience & Safety
Bluetooth 5.0
Stay connected with your Single Din Android car stereo and access your contacts, call logs, music and make calls with the hands free capability.
Navigation
You can get access to different online maps such as Google Maps, iGO, Sygic, Waze and many more. Both online and offline maps are compatible. Please note that this unit doesn't come with a GPS map card and the navigation software has to be downloaded from the Google Play store.
Steering Wheel Control Ready
Take control of your new in-car entertainment system and enjoy your music and other apps music whilst staying safe and concentrating on the road ahead.
Android Nougat 7.1 Single Din Car Stereo at Xtrons
Xtrons are proud to have outlined some of the magnificent features of this car stereo. However, there's more to learn about the product on our website. Please, make sure you absorb all information before making a purchase. If you have any questions about
this product
, or others, do not hesitate to
get in touch
.