Tyre Pressure Monitoring Systems – Just in time for Winter
Following in similar suit to the 'Getting Your Car Ready for Autumn' blog, we will be continuing to advise and educate fellow car owners, enthusiasts and passengers alike about driving safely amidst the depths of our impending winter season.
We've been educated that 'winter is coming' for some time now and with the frost steadily encroaching on our windscreens, it's important to ensure that your car is fit for the road this winter. Rather than insulting your intelligence by instructing you to invest in anti-freeze screen wash, as a solution to your winter worries, we thought we'd implement some of our own know-how into one of our existing products and come up with a solution to the old age, safety hindrance of: checking your tyre pressure. Understanding your vehicle and its condition is a crucial step to becoming a safer driver. However, accessing or obtaining this knowledge can be a difficult process. Therefore, here at Xtrons, we have applied a Tyre Pressure Monitoring System (TMPS) to a selection of our current devices covering a broad range of vehicle models. Once you have correctly installed the TPMS on to your device, the sensors will automatically monitor and assess tyre pressure and temperature, transmitting real-time statistics to your receiver (see image below).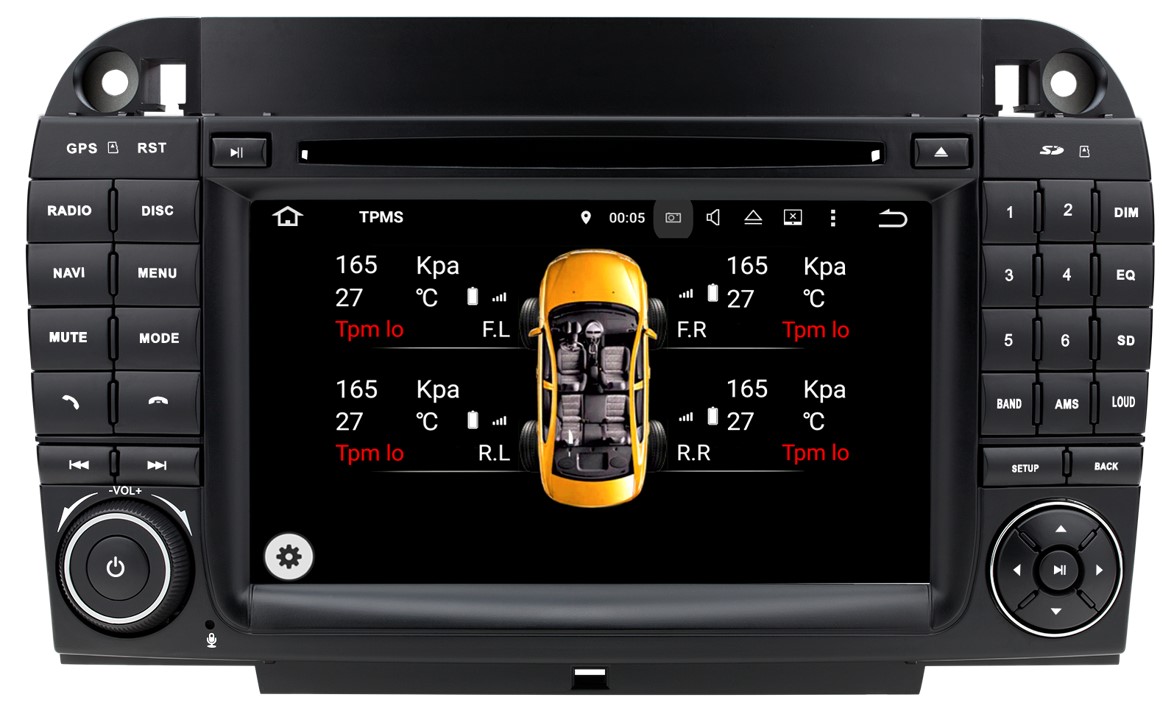 The system comes with 4 screw on sensors which translate the tyre pressure to your head unit. From here, audible and visual warnings and instructions will appear, if a tyre pressure drops below the recommended level. All sensors come pre-prepared to the correct wheel position and are labelled up for a swift installation process. Simply, screw each sensor onto the vehicle valves system and then lock it in place with the provided locknut tool.
But why is tyre pressure paramount in winter, you say? Good question, yet the answer is rather straight forward:
Temperature differences affect your tyre pressure. For instance, cold, chilly weather may cause your tyre pressure to drop which could compromise your car's cornering and breaking ability and, in the worst-case scenario, cause tyre failure resulting in a serious accident. That is worst-case scenario, though. On a more positive spin, correct tyre pressure can contribute to a comfier, more economic, tyre-saving experience. Ultimately, the combination of such factors prompted us to develop the TPMS as a sure fire and simple way of accessing and obtaining accurate knowledge of your vehicle. Additionally, whilst we're talking winter weather and tyre performance, if the temperature outside drops below a frosty 7°, the tread compound in normal tyres begins to harden, providing less grip and reducing stopping distances – which we're sure you'll agree is somewhat hazardous when it comes to winter road driving surfaces. Therefore, the checking and monitoring of your tyres and their pressure becomes something of a must whilst the winter weather continues to maintain its unpredictability.
For further information about our TPMS, please do not hesitate to get in touch.